Jessica Alba's Workout Routine: How Does She Stay Fit?
If you follow Jessica Alba on social media, you might already know how consistent and disciplined she is when it comes to maintaining her fitness and beauty.
Do you wonder, though, what's included in her workout? What exercise routine does the "Fantastic Four" actress follow to stay in shape? Well, here's everything to know about her fitness schedule.
Jessica Alba's workout routineTraining with Ramona Braganza (former NFL Raiders cheerleader and celebrity trainer)
The 41-year-old actress used to train with celebrity trainer Ramona Braganza, and the duo recently started working out again.
According to Braganza, Alba has now started to prioritize her mental health alongside physical health. She includes breathwork and short meditations in her routine and also practices Iyengar yoga, as she believes that this yoga form is important for stretching the muscles after a long hectic day.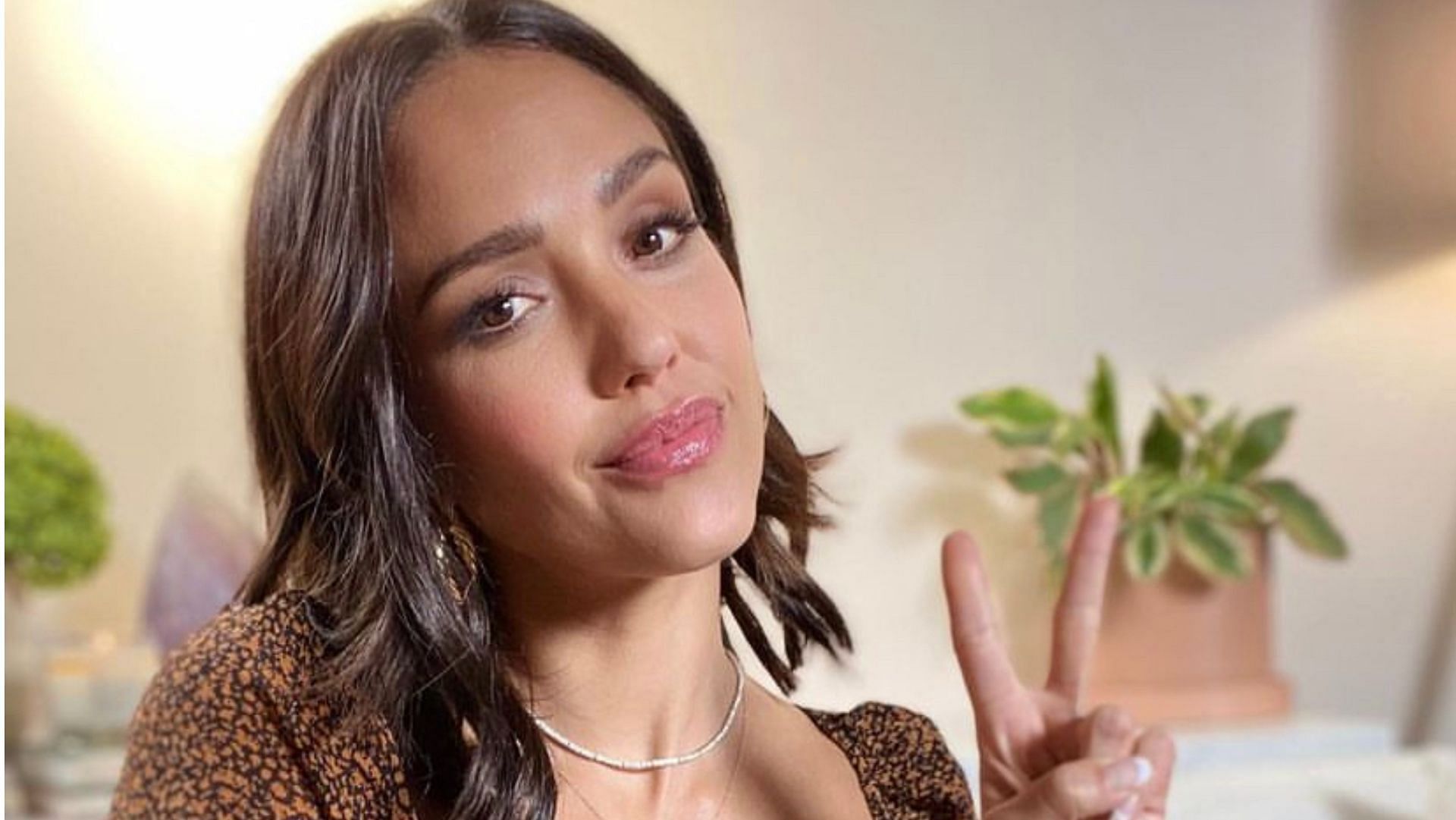 When it comes to Alba's workout routine, the duo tries to hit the gym in the morning and mostly prefers old-school and contemporary music for the workout sessions. As per Braganza, the actress's favorite cardio moves include hiking, indoor cycling, and dancing.
For strength training, Alba prefers moderate weights and is fond of upper body training. Moreover, she also loves using a slam ball in her routine and focuses more on overhead movements.
Read on to learn about a series of exercises included in Jessica Alba's workout routine:
Typically, the "Mechanic: Resurrection" actress follows Braganza's signature 321 training method, which includes three cardio sequences, three strength circuits, and one core workout.
How does Braganza's signature 321 training method work?
Jessica Alba's workout is all about Braganza's 321 training method. That includes a series of cardio exercises followed by the first sequence of two strength training exercises and a short break. This circuit needs to be repeated for one to three sets.
That's followed by a few minutes of cardio and a second sequence of three exercises and a brief break. The circuit also needs to be repeated for one to three sets. She completes the workout with cardio once more, followed by two core exercises.
Exercises Jessica Alba prefers in her training
The following exercises require a jump rope, set of dumbbells, exercise ball, gliders, and weight bench.
Cardio
Warm up for a minute
Jump rope, dance, or jog
Strength training
Circuit 1
Chest press and fly combination on an exercise ball
Bench step-over
Dumbbell plank rotation
Circuit 2
Single-leg hamstring curl
Back row-fly combination on a single leg
Single-leg pop-up
Core strength exercises
Plank circle sliders
Russian twist
Wrapping up
Apart from these exercises, Jessica Alba's workout routine also consists of HIIT workouts and Pilates. The actress also went to the Ayurveda spa this summer and participated in Panchakarma. It's a treatment that resets the entire body and is based on Ayurvedic principles.
Antony and Bruno Fernandes clash as Crystal Palace dent Man United's title notions
Antony was not happy with Fernandes
Manchester United duo Antony and Bruno Fernandes were seen clashing with each other in the first half of United's draw against Crystal Palace.
Fernandes looked to have secured United the three points with a goal on the stroke of half time only for Michael Olise's stunning free kick in second half stoppage time ensured a share of the spoils.
Wout Weghorst also made his debut for the club after they paid Beşiktaş to cancel his loan spell in Turkey and move to Old Trafford from Burnley until the end of the season, with United desperately in need of a striker
The majority of the first half saw Erik ten Hag's side find it difficult to break down a resilient Palace defence with Antony in particular struggling to get the best of full back, Tyrick Mitchell.
It seemed as if tempers began to flare amongst the United ranks on the half hour mark as Antony and Fernandes were caught exchanging verbals with each other, leading to many speculating on social media.
Bruno fernandes and Antony arguing 🤔 pic.twitter.com/YaOagxqrBD

— YOUYOU_7 (@__YOUYOU___) January 18, 2023
One person wrote: "Bruno Fernandes beefing with Antony, all this bollocks about how they're now a United team not individuals is hilarious."
Another tweeted: "Bruno is right to be upset at Antony but it's so funny seeing him get get taste of his own medicine."
Bruno is right to be upset at Antony but it's so funny seeing him get get taste of his own medicine 😂😂pic.twitter.com/zzAcfw7gV0

— 🇨🇩🇸🇱 (@8Flavs) January 18, 2023
A third said: "The people saying Bruno & Antony shouldn't be arguing with each other on the pitch have never played football."
The people saying Bruno & Antony shouldn't be arguing with each other on the pitch have never played Football.

— Paul, Manc Bald and Bred (@MufcWonItAll) January 18, 2023
United now prepare to face Arsenal at the weekend, where they will be without Casemiro after he was booked, taking his total tally to five, meaning he will miss out through suspension.
He did get in for a selfie with a pitch invader, though…
Casemiro poses for a selfie with a fan 🤣🤳

— Barstool Football (@StoolFootball) January 18, 2023
Lionel Messi's wife responds to Shakira 'betrayal' post after Gerard Pique break-up
Lionel Messi's wife Antonela Roccuzzo has come out in support of Shakira following her high-profile split from Gerard Pique – Messi's former Barcelona team-mate.
Colombian popstar Shakira shared a candid message with her fans on Instagram as she welcomed in the new year, taking a thinly-veiled swipe at her former partner by referencing "betrayal" and "heartache".
"Even if our wounds are still open in this new year, time has a surgeon's hands," the Hips Don't Lie singer wrote. "Even if someone's betrayed us, we must continue to trust others."
In response, Antonela sent Shakira three heart emojis in the comments section, in the latest suggestion that she and her husband are taking the singer-songwriter's side in the ugly saga.
Shortly after their split, it emerged that Pique was dating 23-year-old Barcelona-born Clara Chia.
Messi and Pique spent over a decade playing together at Barcelona, having emerged from the club's famed La Masia academy at around the same time.
Messi moved to PSG in 2021, while Pique hung up his boots in November, bringing the curtain down on a trophy-laded 19-year career that saw him win the World Cup, the European Championship, the Champions League, La Liga and the Premier League.
Source: Daily Star
Alisha Lehmann told she 'won't be single for long' after wowing fans in pink ʙικιɴι
Alisha Lehmann has kept her social media followers updated during a recent holiday in Miami – with many left asking how she is still single after her split from Douglas Luiz.
The 23-year-old Aston Villa forward and Switzerland international has been catching the eye both on and off the pitch in recent seasons – with her Instagram following growing to over 10 million.
Following a recent trip in which she posed on the beach for no less than nine separate ʙικιɴι snaps, many of her followers had one thing in mind.
One comment read: "She won't stay single for long."
A second said: "I was looking for the meaning of perfection and I found this."
A fourth then concluded: "The most beautiful soccer player in the world."
The WSL star was recently back in the headlines after splitting up with Villa midfielder Luiz and then removing their shared snaps from Instagram.
The couple are said to have split over a row regarding her 2023 calendar which reportedly led to a furious row between the pair.
The split came after countless displays of public affection between the loved up couple – as well as him defending her for a comment made by a TV presenter.
Lehmann has also shared several clips of her Soccer AM cameo, in which he bagged a top bins in some style.
One of those to react was fellow Villa professional and Brazil international Luiz, who wrote on her upload with heart and fire emojis: "The best."
Source: Daily Star